EDIT MAIN
Welcome to FFA Alumni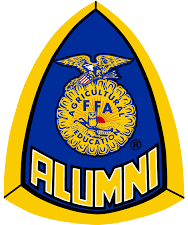 Originally the Friends of the Sturgeon FFA, the Sturgeon FFA Alumni has reorganized in 2019 to be associated with the National FFA Association. The Chapter meets quarterly in the Sturgeon Agricultural Education Room at the High School.
The Sturgeon FFA Alumni is open to any supporters or community members of the Sturgeon FFA. To be a voting member, the Chapter has voted that you must be a Dues paying member with the National Organization. These dues can be either paid to the chapter or directly to the National FFA. For past FFA members, membership is free for 5 years. All other members dues are $10 per year or $200 for lifetime dues.
Chapter Meeting Dates 2019-2020
August 21, 2019 at 6:30 p.m.
December 18, 2019 at 6:30 p.m.
March 11, 2020 following the general FFA Meeting.
June 17 at 6:30 p.m. in conjunction with the general FFA meeting.
Chapter Officers
Partners in FFA Education Letter
We hope to create long-lasting partnerships in our community that are mutually beneficial to both parties. The Sturgeon FFA Alumni and Supports are dedicated the promise of FFA and agricultural education by creating an environment where people and communities can develop their potential for premier leadership, personal growth and career success. As a partner of the Sturgeon FFA Alumni and Supporters, we can reach this goal and help build a stronger community.
Scholarship Opportunities
FFA Membership Due Scholarships
Each year, the FFA Alumni strives to support the general membership by providing scholarships to students who need assistance in covering the cost of FFA Dues. For the 2019-2020 FFA year, the FFA Alumni has approved the purchase of covering all Agricultural Education students due to the National FFA Organizations. Our general membership has worked hard over the last five years to grow the program and support the community. Due to their efforts, it was the decision of the Alumni Chapter to lend a supporting hand to our general FFA membership.
The Blue Jacket scholarship is given to a deserving first or second year FFA member needing support to purchase their own Blue Jacket. Students must apply for the scholarship and be selected to receive the scholarship.
Graduating Senior Scholarship
The FFA Alumni - Graduating Senior Scholarship is awarded to an outstanding senior FFA member. The guidelines will be established by the FFA Alumni Scholarship Committee.