Come join our Bulldog Team!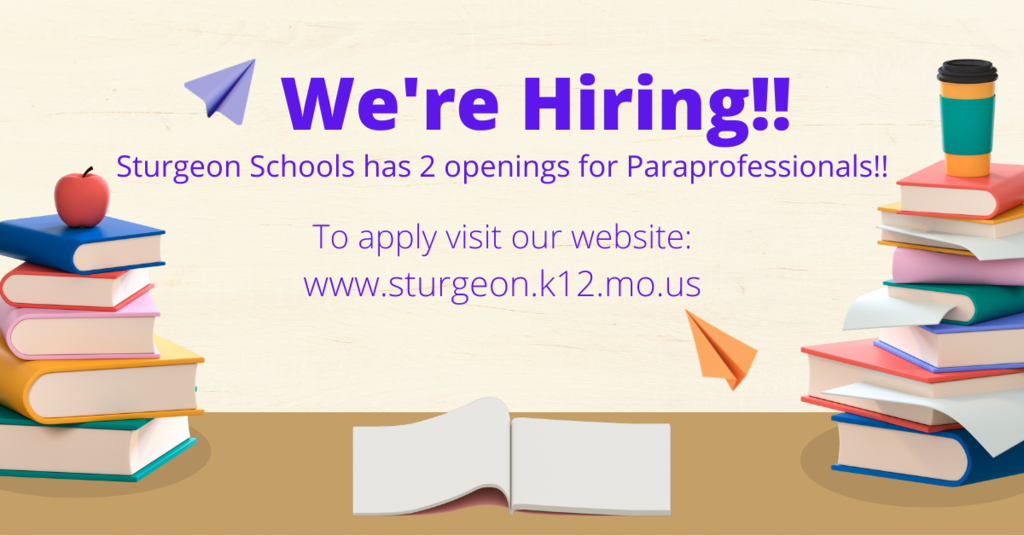 At the 2022 Missouri Association of Pupil Transportation Conference, Sturgeon was recognized for its commitment to school bus safety with a Total Fleet Excellence Award. Kudos to Jeff Carr and our entire Transportation Department!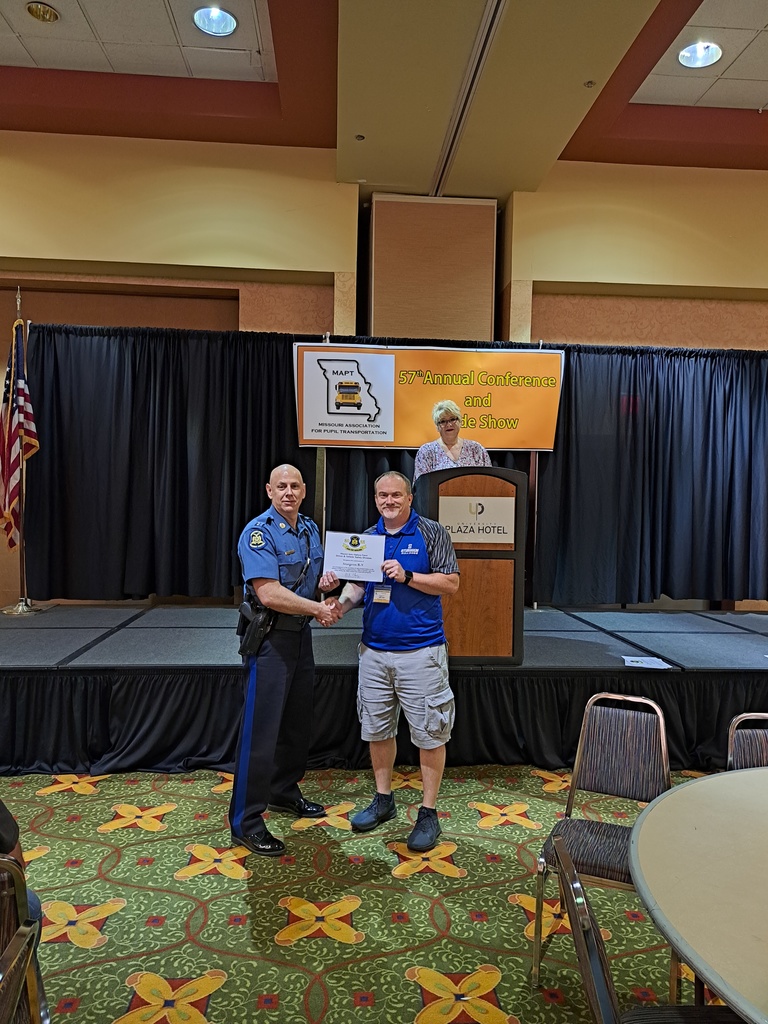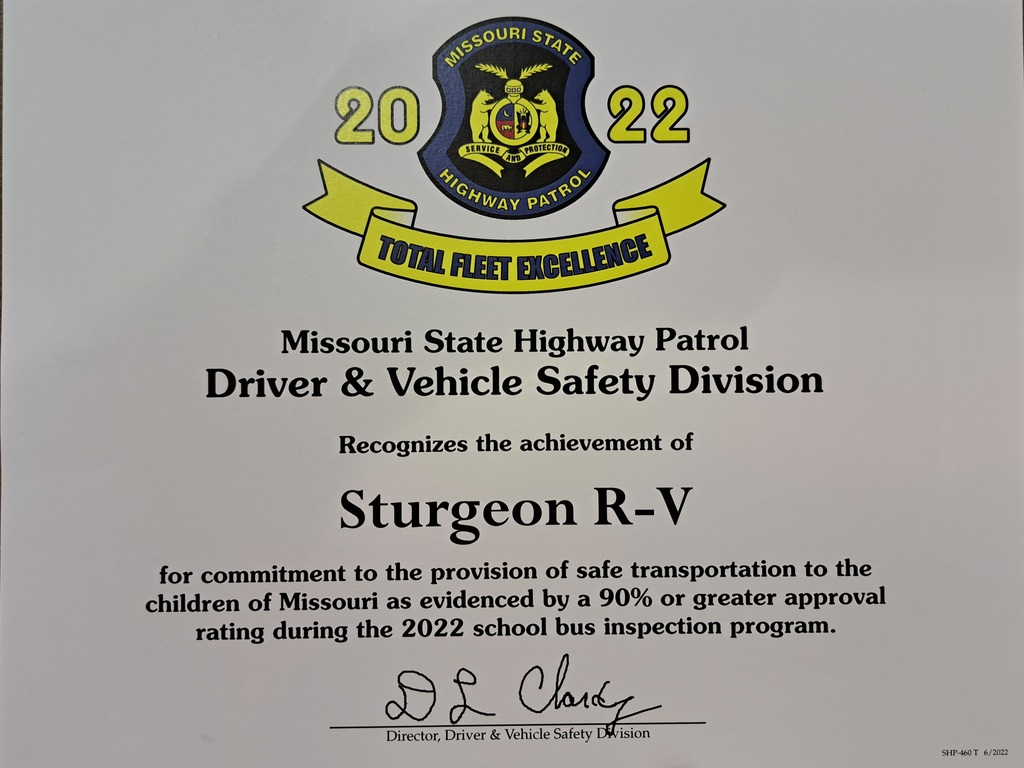 Did you hear the good news? Retired teachers can rejoin the classroom without jeopardizing their retirements. Come join us in Sturgeon to experience the joys of teaching in rural Missouri!

Ready to think about school? We are! The first day of School is August 23. Here's the new, pared down, intentional, and cost-effective school supply list. See you in August!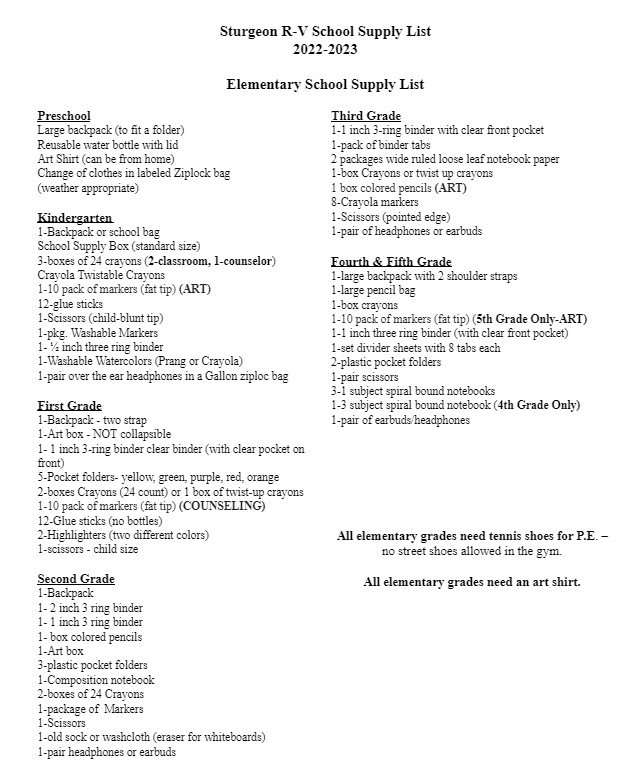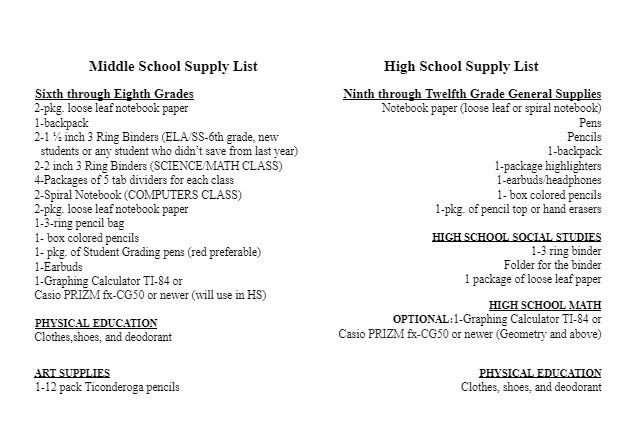 Join us!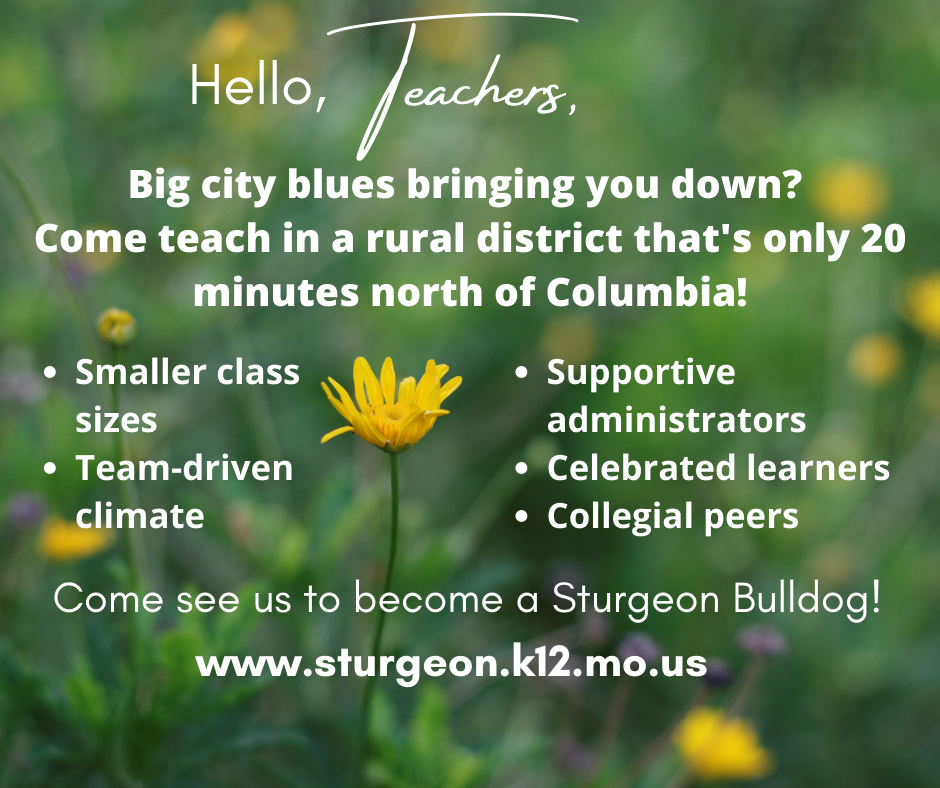 • Summer school starts Wednesday, June 1, and runs through Tuesday, June 28, Monday – Friday. Doors open at 7:15am and classes begin at 7:45am. School will dismiss at 3pm each day. Please do not drop off or leave students un-supervised before 7:15am. • Breakfast and Lunch will be served to all students free of charge during Summer School. • All Parent drop offs, pick-ups, walkers, and bike riders will need to use the Elementary entrance each morning and afternoon. The Bus Unloading/Loading entrance will be used to receive and dismiss only bus riders. Parents checking students in or checking students out between the hours of 7:45am and 3pm will need to use the Middle School Entrance. • We recommend each student bring their own re-fillable water bottle to school each day. Students will have access to the water bottle filling stations, but access to drinking fountains may be limited. The office will not be giving out water bottles this year. • If you have any questions or need more information, please contact the Sturgeon Middle School office at 573-687-2155.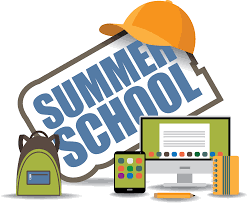 Student Teaching Opportunities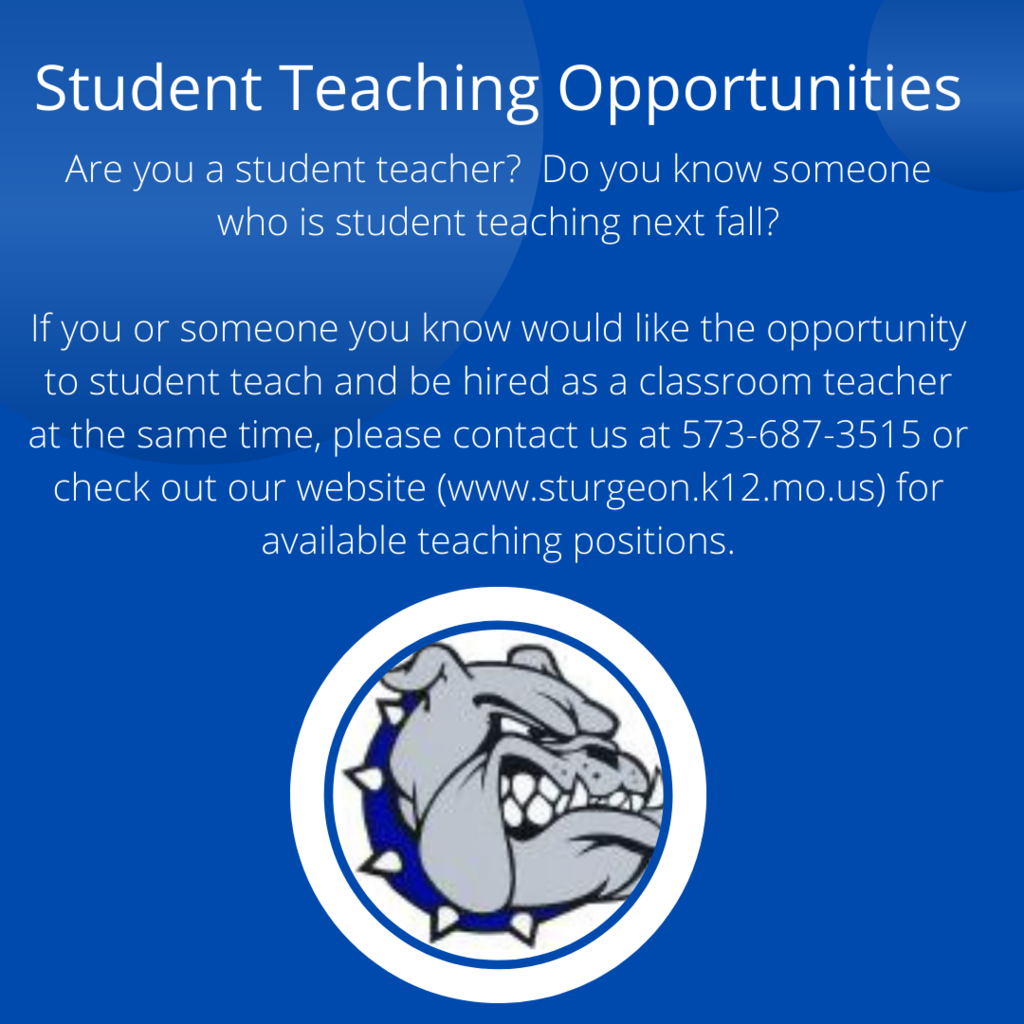 Come join the Bulldog family!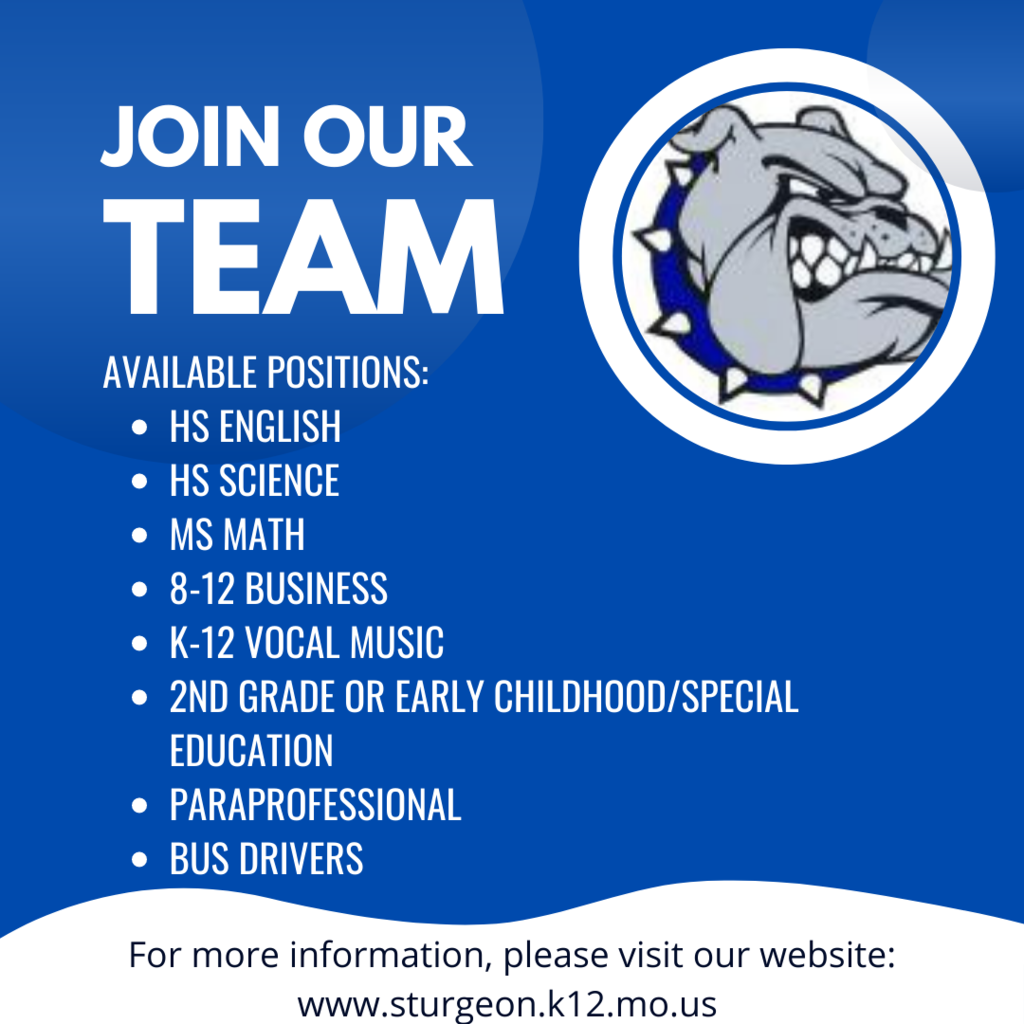 As we roll into Memorial Day weekend, we'd like to take a moment to remember and thank our brave service members who made the ultimate sacrifice--while all gave some, some gave all.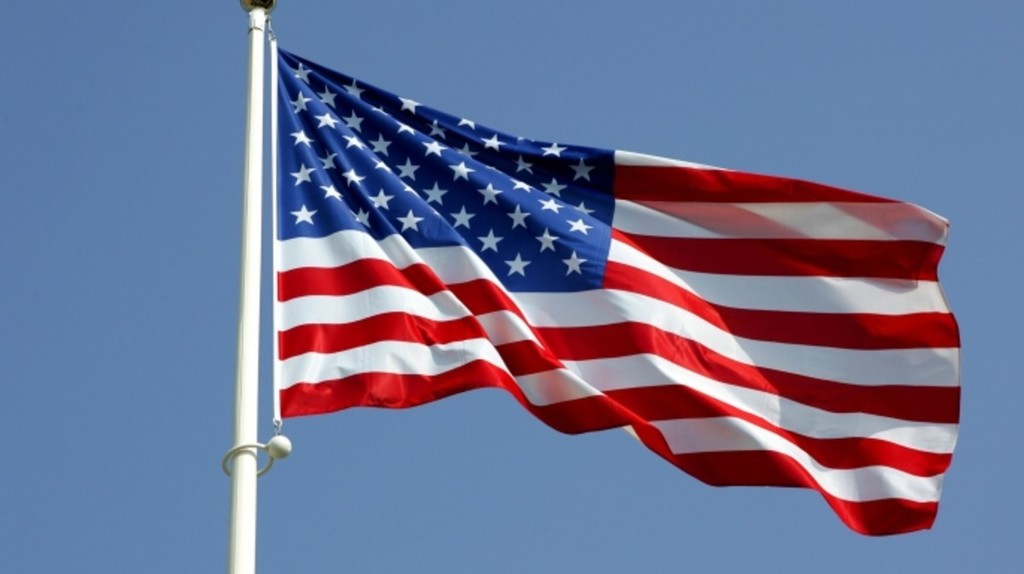 Another year in the books! All of the busses are in and all children have been safely delivered home. The 2021-22 school year will be one to remember. Thank you, Sturgeon Families and Community for your continued support!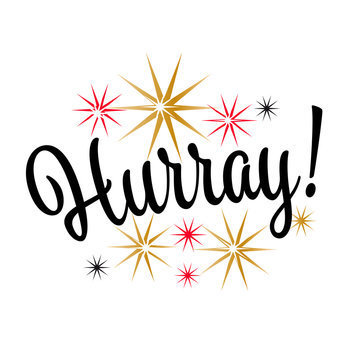 Congratulations, Lynn Truesdell and Susie Hesser. Enjoy your retirement!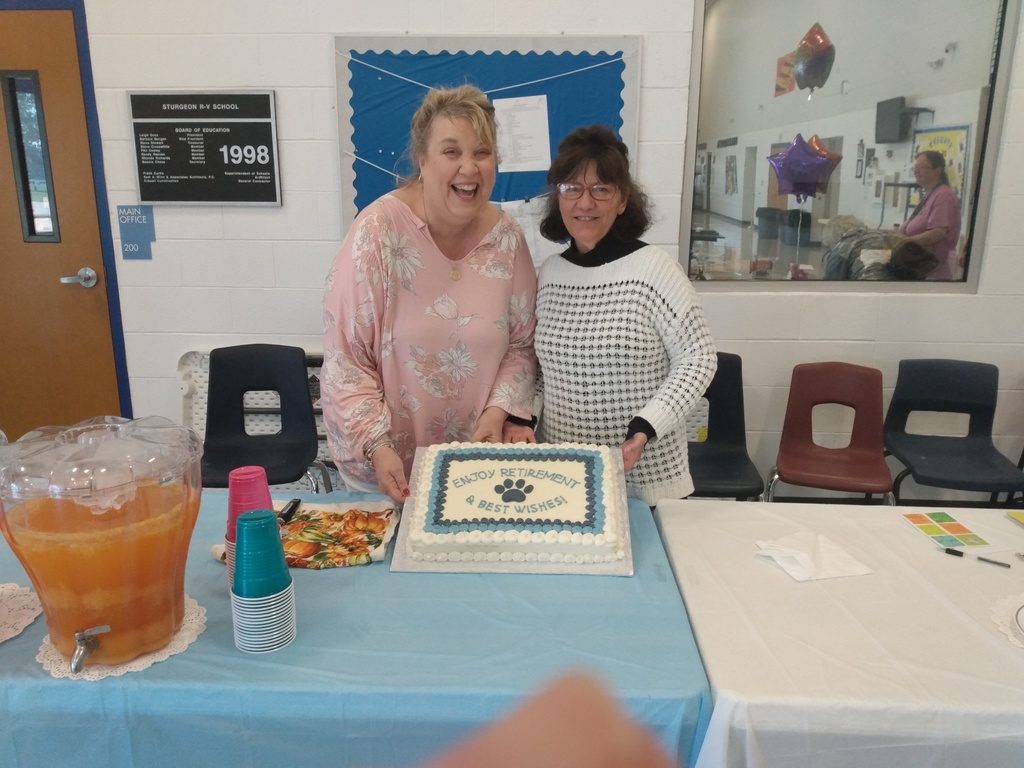 Congratulations, to the Sturgeon 8th Grade Glory of Missouri Award winners. This prestigious award is conferred to students who exemplify the virtues of greatness by Missouri's House of Representatives. We're so proud of you!


As a community partner, we work with local law enforcement to ensure our schools are safe. This evening from approximately 6:00-10:00 the SWAT team will conduct training at the Middle/Elementary School. If you see lots of police vehicles around our school, don't worry-all's well! This will not affect the Academic Banquet at the High School.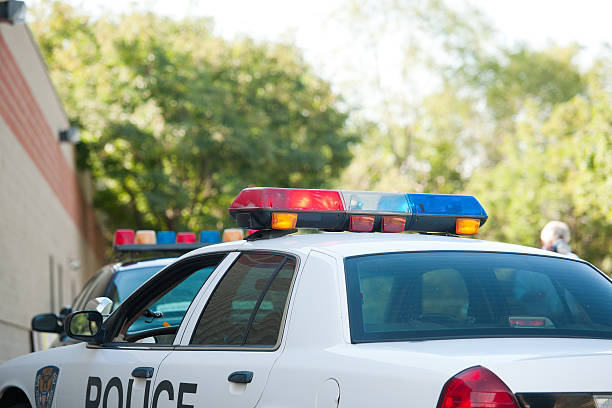 We'll miss you, Class of 2022! Fair winds and following seas!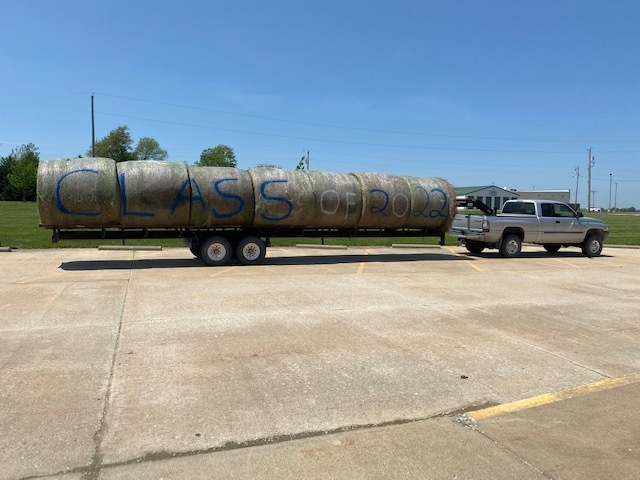 Don't forget! Monday, May 16 is a school day. We are sprinting to the finish of our 2021-22 year--it's been one for the books!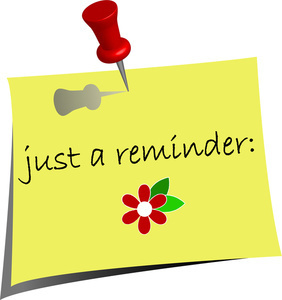 SHS Commencement Ceremony will be held on Friday, May 13 at 6:00 at the high school. Doors will open at 5:30, and the event will be livestreamed on our Facebook page. Signs, streamers, silly string, air horns, poppers, and/or noisemakers of any kind are not allowed at the event.

The Sturgeon 3rd-5th Grade Choir Concert is tonight at the Sturgeon High School Gym beginning at 6:30pm. Doors open at 6pm and student participants need to arrive no later than 6:15pm. The students along with Ms. Bryan are eager to share the fruits of their labor. We hope to see you there.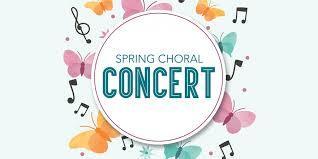 Just a reminder: The Senior parade is tomorrow, May 12 at 5:00. Let's line the streets and celebrate our seniors.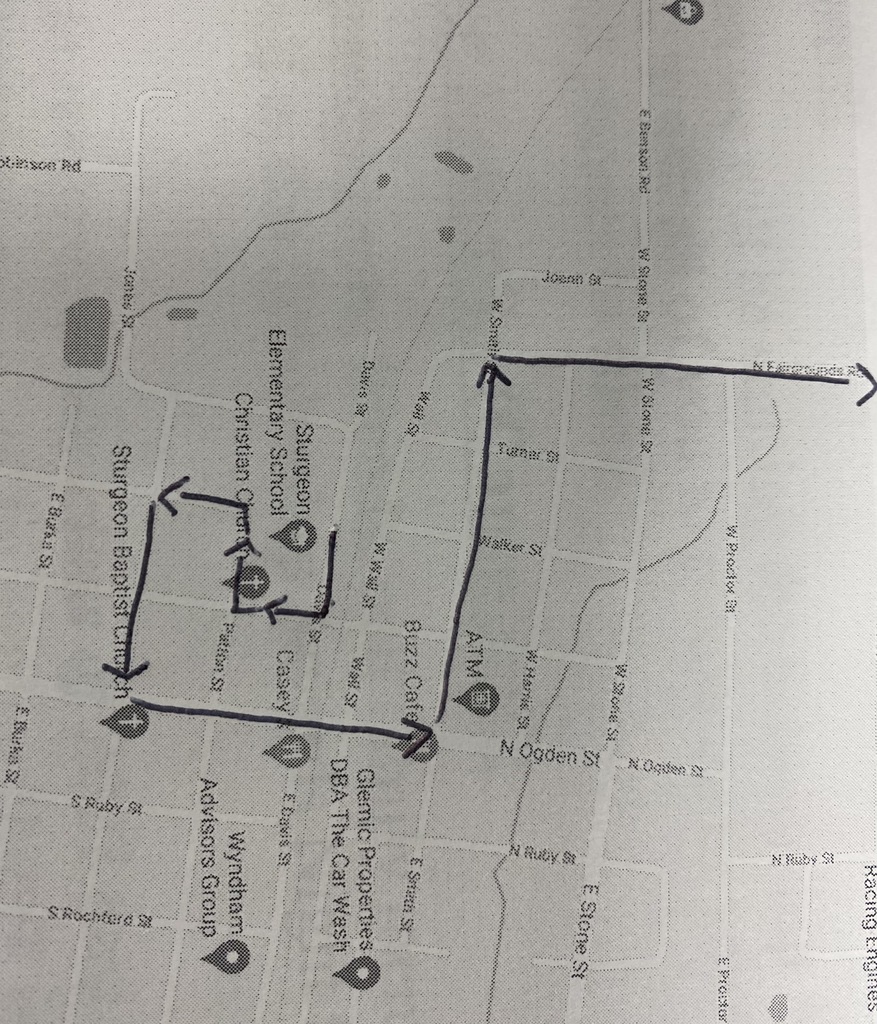 Elementary and Middle School Field Day will be Monday, May 16. Elementary will be outside all morning and Middle School will have a kickball tournament in the afternoon. PTSO will be providing a snowcone for every student. #alwaysabulldog

Line the streets and celebrate the Class of 2022! The senior parade is Thursday, May 12 at 5:00.